Welcome to The "Checkerboard Aussies". We are four beautiful Australian Shepherd dogs who are cared and loved for by our owners, Cindy and Rob Roth. We live "Just North of Wiarton & South of the Checkerboard". Our Cindy blogs all about where we live and what goes on over there
HERE
.
Let us introduce ourselves.
"The top left photo is Lexus, top right is Missy Mercedes and bottom right is Bandit. The face in the photo directly below is that of Buddy."
"By the Way, to keep things clear Bandit is the Top Dog Reindeer in this Pack."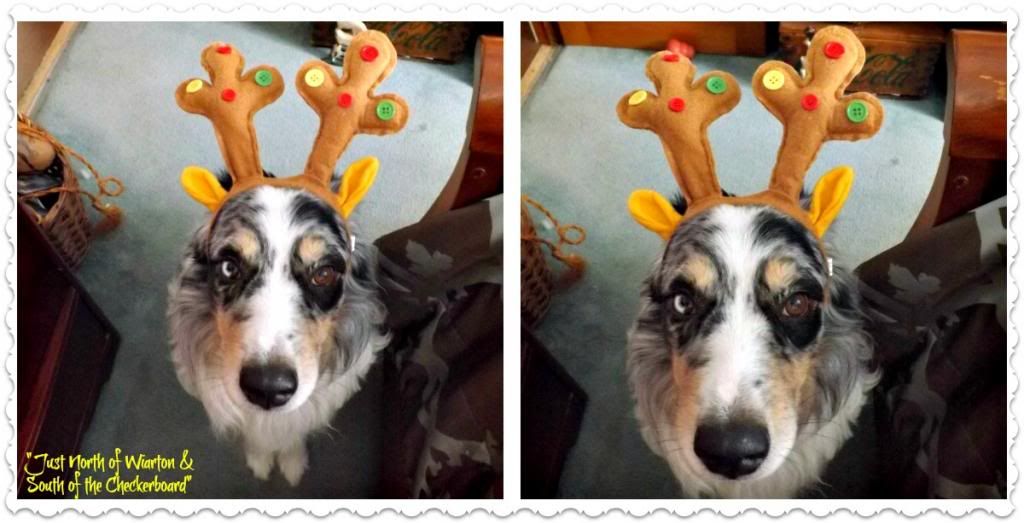 Let us share a little more about ourselves with you.
Bandit:
Blue Merle Australian Shepherd Male, Born July 2005.
I was purchased as a Puppy from an Ontario Breeder.
Lexus:
Red Tri-coloured Australian Shepherd Female, Born November 2009.
I was purchased as a Puppy from an Ontario Breeder, non-related to Bandit.
Buddy:
Blue Merle Bi-coloured Australian Shepherd Male, Born 2010.
I was purchased privately May 2012 from a Family who loved me
Originally purchased in 2010 from a Registered Ontario Breeder.
Mercedes:
Black Bi-coloured Australian Shepherd Female, Born 2011.
I was purchased as a puppy from an Ontario Breeder.
We are all non-registered, however Purebred Australian Shepherd Dogs. Bandit, Lexus and Mercedes came from a history of registered parent dogs. Buddy himself is a registered dog.
We do not show or compete, finding no need to be registered as we are Pets to our Owners. Any of our Offspring will be sold as pets, and will not be Registered.
Our owners only allow us to be bred once a Year, which in turn produces an offspring litter in the Spring. Buddy and Mercedes have been too young to breed up until now, however Bandit and Lexus have been proud parents of two healthy litters in 2011 and 2012. All their pups are still enjoying their Forever Homes.
Our Offspring will not leave to go to their new Forever Homes until they have been de-wormed, received their first shots and have passed a complete Vet Check at 8 weeks of age.
My owner, Cindy, does have a list began for people who are interested in purchasing one of our Offspring in 2013. Deposits are required and accepted. You may contact her by Email to inquire further about this at checkerboardaussies@live.ca
For those of you who are not familiar with the Australian Dog, such as us, please find out more by *clicking*
HERE
.
Stay tuned as we will be posting photos and goings on in our four lives here time to time, as well as any photos of our offspring their Forever Home humans send our way. We hope to have a Guest post from one or two of our Offspring's humans from time to time too !
Bandit, Lexus & Buddy & Mercedes, The "Checkerboard Aussies".